As part of The International Space Orchestra and Kid Cudi collaboration Amazon have released a Youtube 'behind the scenes' documentary following their journey to making the Prime Day Video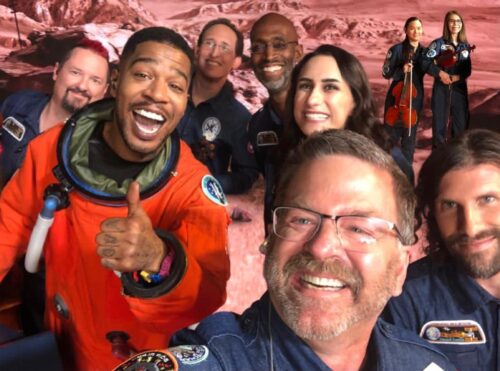 A video has dropped today following the members of the International Space Orchestra as they prepare to travel, their journey to record and finally their performance with Kid Cudi for the Amazon Prime Day Show.
Also providing unique Prime Day Show experiences this year are Billie Eilish, whose new album Happier Than Ever is out next month, and recent Oscar winner H.E.R.
The International Space Orchestra:
The International Space Orchestra is the world's first orchestra of space scientists. Blending space exploration and bassoons; planet-poking and bluegrass-playing spacecraft operators –the International Space Orchestra, is an experiential and hybrid research laboratory, where space scientists are implementing, deconstructing, performing, singing, mixing, modifying, and designing musical acts. It is a provocation to action: a call to imagine and disrupt future human relations to space science; to adapt space science to our creative needs.
The ISO previously performed with Beck, Damon Albarn and Bobby Womack, The Prodigy, Penguin Café, Japanese composer Maywa Denki and many more. In this tangential reality, your Flight Controller conducts arias and the Payload Officer works a baritone sax, while the Capsule Communicator is on the triangle and an astronaut on percussions. Following the rules of tragedy defined by the ancient Greeks, the International Space Orchestra chorus introduces the public to the emotional nuances of space science missions. Merging space, technology, design and rock, the ISO with Sigur Rós aims to reach the final frontier.
The International Space Orchestra is currently rehearsing with Director and ISO creator Nelly Ben Hayoun, Two-time Grammy-Award winner ISO musical director Evan Price and musical conductor Gordon Lustig, choir master Amanda Hahn at NASA Ames Research Center and the SETI (Search for Extraterrestrial Intelligence) Institute in California, USA.
ABOUT KID CUDI

After more than a decade in the music industry, Kid Cudi, born as Scott Mescudi, has established himself as an important figure in rap. With six solo studio albums, two collaborative albums, a mixtape, and countless successful singles under his belt, he's proven himself as one of the most influential rappers for a whole generation of artists. Since dropping his debut studio album, Man on the Moon: The End of Day, in 2009, which housed songs like "Day 'n' Night" and "Pursuit of Happiness," he has shown he can also find success in lanes outside of music. Apart from the sonics, the 35-year-old has also made some strides in fashion. Cudi appeared in Virgil Abloh's Louis Vuitton fashion show in 2018, before partnering with Adidas in the spring of 2019. He also unveiled the first look at his 10-piece collection, A.P.C. x Kid Cudi. Cudi has also flexed his acting skills in shows like HBO's How to Make It in America and Westworld.
ABOUT THE SETI INSTITUTE
Founded in 1984, the SETI Institute is a non-profit, multi-disciplinary research and education organization whose mission is to explore, understand, and explain the origin and nature of life in the universe and the evolution of intelligence. Our research encompasses the physical and biological sciences and leverages expertise in data analytics, machine learning and advanced signal detection technologies. The SETI Institute is a distinguished research partner for industry, academia and government agencies, including NASA and NSF.